Book list
---
IT'S ONLY TEMPORARY
The Reluctant Bride Collection
---
---
The Fashionista and The Geek
---
Boring Is The New Black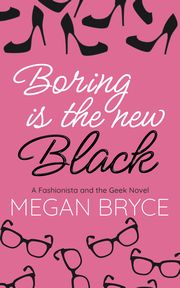 Famous name? Check.
Famous face? Double check.
A life locked up tight? Lock and key.

The daughter of a famed supermodel, Nicole Bissette has lived her entire life unwillingly in the spotlight. And she's learned that to keep unwanted attention from herself, it's best if she never smiles, never laughs. Never lets anyone close.

Especially her employees. Especially that one employee who lives to make her laugh, who loves to see her smile, and who doesn't seem to realize that he works for a fashion designer. Does he not know? Can he not see? Is that really what he's wearing?

This fashionista is about to discover that love really is blind. . .
---
The Tie's The Limit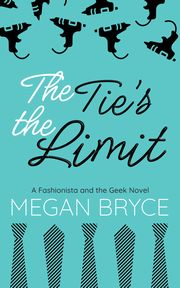 You can't go home again? Yeah, tell that to Gia Abelli's parents. After crumbling to the guilt trip from hell, Gia's forced to leave the greatest city on Earth (New York!) to move in with her parents in. . . Florida? Hurricanes, alligators, and beer? Oh, my.

Forced to give up her (okay, meager) apartment and her (not particularly lucrative) job, she falls back on the one thing she could do in her sleep: shopping! With help from her too-large and too-Italian family, she's been set up as Florida's premier fashion consultant. But if there's anything worse than 400-degree heat and having to actually drive (and park) an obscenely large SUV, it's having to shop for an ice-cold accountant who doesn't realize he can't wear the same damn tie every damn day. . .

Mac Sullivan has been given an ultimatum: fix his wardrobe or kiss his promotion goodbye. Despite the fact that no one can adequately explain what exactly is wrong with wearing the same looking tie every day, or that he's not exactly sure he wants the promotion anyway, he's been saddled with New York. Glittery, bubbly New York who's never met a sequined flip-flop she didn't love, and who thinks she can dress him in something she likes to call "English Lord". . .

Well, she can think again. She'll dress him normal, and she'll keep the glitter and sequins out of his office, even if it is starting to look a little dull when she's gone. . .
---
---
Take one disgustingly handsome and too-wealthy man. Add in one woman who loves to hate him. Stir them together in the bubbling pot of a fake engagement and watch as a man who can have anything he wants falls for the one woman who just won't give him her heart.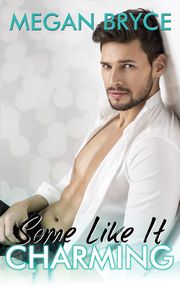 Mackenzie Wyatt
believes in two things: herself and her plan. And her plan is to keep her head down and work hard until she can retire. Never mind that she doesn't know what she'll do once she retires– at least she won't be working for the man anymore. Because even though he's a gorgeous man, he's still her boss and he likes to push her buttons.
Ethan Howell O'Connor
's charmed life comes to a screeching halt after his latest ex-girlfriend starts a fashionable trend in talking to the tabloids. Now all of Ethan's old girlfriends are talking to the press, ruining his reputation, and wiping that charming smile right off his face. The only person who can brighten his black mood is the same person who can annoy him to kingdom come. He and Mackenzie have feuded since the day she was hired but now Ethan's starting to realize: maybe those sparks were hiding a blazing fire.
And Mackenzie's about to find out that sometimes a gorgeous man can come up with a plan all his own, and it's a given that it'll mess hers up.
---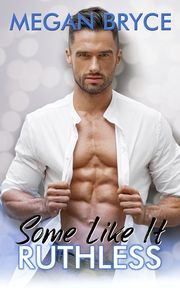 Dallas, Texas— the home of big hair and big hats. Big money and big egos. Big lives, big loves, and big mistakes...
The Caldwells and Montgomerys have been feuding for generations, and through the years Margaret and Cole have been secret friends, secret lovers, and outright enemies. For the last six years, they've both pretended the other didn't exist— it's hard to get along with a Caldwell when she always gets what she wants; it's hard to trust a Montgomery when he'll go out of his way to break a deal.
But six years is a long time. Long enough to make a woman who was once queen of the Dallas social set now teeter on the brink of bankruptcy. Long enough to make a man who was once reviled now so prosperous that anyone in Dallas would beg to be under his thumb.
Almost anyone. Because Margaret Caldwell hasn't forgotten that the last time she made a deal with Cole Montgomery, he betrayed her— and she'll never believe that all he wants for saving her this time is forgiveness for his one big mistake...
Contains a damn lotta cussing, too much sex and innuendo, and one angry blonde making a man sing soprano.
---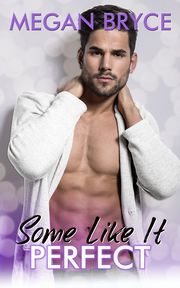 A woman who has nothing,
Delia Woodson
is desperate. That's why she agrees to it. Because she's a painter, no one is buying her paintings, and she's desperate. She has bills to pay, food to buy. Someday she might actually want to live in her own apartment instead of on her friend's couch. And all she has to do is paint baby-faced angels on an indecently rich, corporate shill's ceiling. Because, he just can't think of any other way to spend his money? And she just can't think of any other way to make it.
A man who wants for nothing,
Jack Cabot
doesn't want the mural his mother has commissioned for his office ceiling. He doesn't want the distraction, he doesn't want the silliness. He doesn't want the artist now spending her days ten feet above his head. The artist with paint in her hair, distracting him. Bickering with him. Amusing him, until... Jack discovers he does want something after all.
---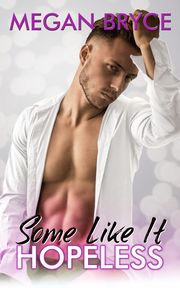 In love with her gay best friend since forever,
Cassandra Spencer
has accepted that not everyone can have the fairy tale. Not everyone can have marriage and children and the same last name. But she has Shane, and she loves him and he loves her... Until he falls in love with someone else. Someone nothing like Cassandra; someone she can never accept.
Brady Roberts
destroyed his whole world, and there will be no forgiveness. No end to his guilt and pain. He exists day to day until he tangles with a woman who just won't let him. A woman who believes that life is meant to be lived, no matter how hard it is. No matter how much it hurts. No matter how hopeless. Because sometimes, hopeless doesn't have to mean alone. And sometimes, hopeless isn't the end.
---
---
The Reluctant Bride Collection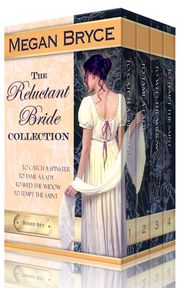 Come back to a time when manners are everything and rules are made to never be broken.
Come back to a time when men are in charge and women do what they are told...
Yeah, that never happened.
Welcome to Megan Bryce's Regencyland, where ladies with backbone get what they want. Where a woman can thumb her nose at rules and care little for convention, and yet somehow, unexpectedly and most reluctantly, find love.
---
To Catch A Spinster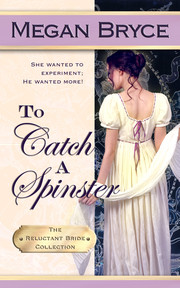 Olivia Blakesley
, self-proclaimed spinster extraordinaire, is quite happy with her life. She has her studies and her duties, what need does she have of a husband? With five sisters married she knows the reality does not live up to the promise, and does not need to personally experiment with the state to know she would be ill-suited to it. However, she finds herself envious of at least one aspect of marriage. But to experience the physical side of marriage, one doesn't need a husband, all one needs is the right man. . .
Nathaniel Jenkins
knows his duty. Marry a young girl from a respectable family and father an heir, no matter how cold the endless parade of suitable girls leaves him. But a shocking proposal from a scholarly spinster leaves him wondering if unsuitable is just what he's looking for. Can he convince his spinster that marriage is the greatest experiment of all?
---
To Tame A Lady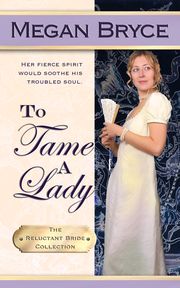 Lady Amelia Delaney
is known for her sharp tongue, no-nonsense attitude, and sizable fortune. Numerous suitors have tried to win her hand for the money, for the challenge, and for a rather unfortunate bet. She knows the unflattering reasons behind her numerous proposals– can she ever accept that a man would want to marry her just for herself?
Jameson Pendrake
is a devil-may-care dandy who cares for naught but fun and fashion. But behind his laughing green eyes lies a dark history, and he calls off his wedding because of his fear of repeating the past. He can not simply give up on the idea of marriage– a wife is the best defense against the yearly crop of scheming mothers and their frilly daughters. But to allay his fears he needs a woman strong enough to laugh in the face of his past. A woman unflappable, unwavering, and unbroken. He knows just the woman. The trick, it seems, is in getting her to accept.
---
To Wed The Widow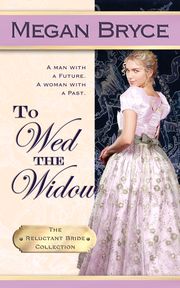 A man with a Future, the Honorable
George Sinclair
would rather poke his eye out than take his place beside his brother and learn How To Be An Earl. But when an earl orders, a brother obeys. And when an earl tries to make his brother steady and responsible and old and gray, well... it just might kill them both.
A woman with a Past,
Lady Haywood
is a scandalous distraction that no honorable gentleman can ignore. Especially one who's just been told that his very happy life is changing irrevocably to the boring. But even if a scandalous distraction is what George wants, what he needs is a wife. A virgin wife. A scandal-less wife...
The earl would be the first to say that his brother has always had a problem choosing what he needs over what he wants. Lady Haywood would say that very few women who have buried five husbands would bother with a sixth. And George would say... why, this sounds like fine fun.
---
To Tempt The Saint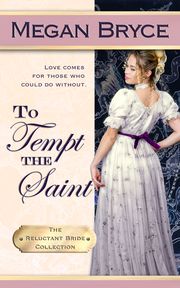 Many years ago,
George St. Clair
loved and lost– his heart, his faith, his future. Now, he is content to watch not-so-silently as life happens to his friends, secure in the knowledge that no woman could tempt him again. Absolutely certain that no woman is worth the risk. Confident that he is protected from the pain...
Honora Kempe
lost everything after her fall from grace– her family, her life, a future. Now, Hell hath no fury like a disgraced vicar's daughter and she is determined to get back what was hers. By hook or by crook. Man by man. Lie by lie. Until one man makes her wonder if love really can heal all pain. And if too late really is too late...